Skip to main content
Welcome to Bewl Sailing Association
Bewl Sailing Association (BSA) is a not-for-profit organisation that supports and promotes recreational sailing at Bewl for all, in a relaxed, friendly and welcoming atmosphere, irrespective of age and ability.  
We are affiliated to the RYA and provide practical benefits to all our members, including club insurance, independent support boats, social events and racing throughout the year. We maintain a positive and businesslike relationship with the owners of Bewl Water, representing our members' views and contributing to the development and enhancement of the sailing facilities at Bewl. 
Click here to join us, and keep up to date by signing up for our mailing list at the right hand side of this page.
We very much look forward to seeing you on the water at Bewl.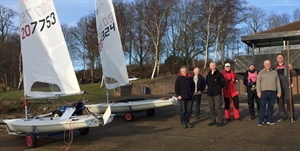 |
06 Jan 2017
Here's the report that appeared in today's issue of the Kent and Sussex Courier.
26 Feb 2017 14:00
The Waterside Cafe
The officers of BSA give notice of the Annual General Meeting of the Association to be held on the above date and time at The Waterside Cafe, Bewl Water, Lamberhurst, Kent TN3 8JH.
The meeting is open to all members and to also to all people interested in sailing at Bewl Water.
05 Mar 2017 
Bewl Water
Please put Sunday 5th March in your diaries for the Bewl Blaster Open Meeting.
08 Apr 2017 - 09 Apr 2017 11:15 - 16:00
Bewl Sailing Association
Flying Fifteen Open Meeting